Rebecca created Temple De Luna in 2019 after her 10+ year journey with acne and psoriasis. After trialling numerous skin products over the years Rebecca found her skin responded better to natural and vegan products. This decade-long battle allowed her to develop and create formulas at home for herself. Then when she unexpectedly found herself unemployed in 2019 Rebecca decided to take the leap and launch her own skincare products to help people going through the same experience.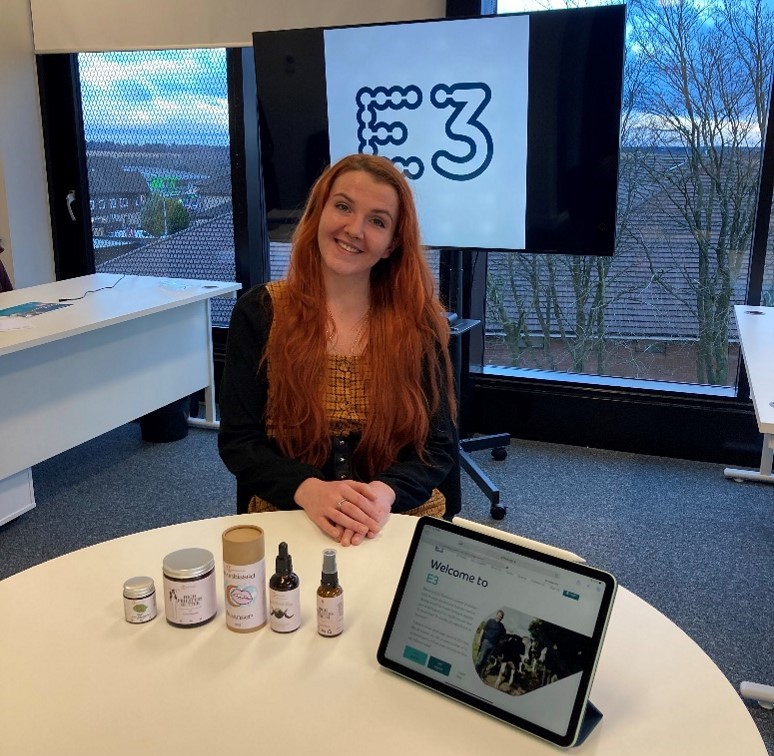 How E3 helped Temple De Luna
Rebecca was referred to E3 North Lanarkshire through connections with one of the hub managers, and expressed how she needed support expanding her business. The E3 team were able to set Rebecca up with the Maybe Solutions platform which improved her knowledge of utilising social media for business purposes through the e-learning videos. Enhancing the business' online presence was especially important for Temple De Luna as the store exists exclusively online. The platform enabled Rebecca to unlock the £2,600 social media vouchers, this boosted Temple De Luna's customer base as Rebecca had the funds to strategically market her products in a new way and to the right audience. The Maybe Solutions scheduling tool was also a crucial element that helped Rebecca, as she was able to promote her products whilst working full time in her new role as a carer.
The E3 team and Rebecca regularly kept in touch to support her throughout her business journey, such as signposting any upcoming relevant events/ programmes. Rebecca especially found our in-person networking event a great way to make local connections and learn more about the support E3 has to offer. Ultimately this further expanded Rebecca's network and customer base. E3 were able to refer Rebecca to Business Gateway where she may be eligible to receive a Growth Grant in addition to more digital training to further expand her website and social media. Ultimately E3 have assisted Rebecca in the beginning of her business journey and will continue to support her goal of running Temple De Luna full time.